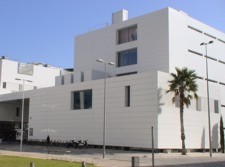 The International Relations Office (ORI) has as principal function promoting the school internationalization based on a user-focused quality policy within the framework of the strategic lines and direction of the Vice-rectory of International Relations, among which strengthening the UPV as a destination university for foreign students by agreements with other foreign universities and institutions is found.
Specifically, the ORI functions are:
Supporting and managing the school community's mobility (students, faculty, administration and services personnel) in national and international mobility programs.
Attracting foreign students and managing their academic records, facilitating their integration.
Coordinating and promoting language courses.
Promoting exterior visibility of the school by participating in national and international forums and meetings.
Our International Relations Office is located on the  ground floor of the ETSIGCT,  in «Campus de Vera».
 Other map, building 7I in UPV's plane
Staff
Vicedean of External Relations of the ETSIGCT:  Israel Quintanilla García

Technician of International Relations: Inmaculada Tomás Estellés
Internacional officer: Josefina Soler
Assistant of the International Relations Office:   Eli Petrova

Schedule of attention to the public
Monday
Tuesday
Wednesday
Thursday
Friday
10:30
14:00
15:30
18:30
10:30
14:00
15:30
18:30
13:00
15:00
Contact us:
Tel.: +34-96 387 7160 (ext. 71641)
Fax: +34 96 387 9469
Email: intergeo@upvnet.upv.es
URL: http://www.upv.es/intergeo